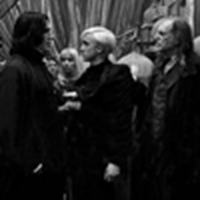 Snape, Malfoy & Filch
New images from 'HBP,' no Trelawney in movie
June 2, 2008 at 8:02 AM ET
Geri HPANA (via Various)

harry potter and the half-blood prince movie, half-blood prince movie, hbp movie
---
Some new images from the upcoming Harry Potter and the Half-Blood Prince movie have appeared online. The images show Snape, Malfoy & Filch and the trio in different locations.
Also, word has come from Emma Thompson's representatives that Sibyll Trelawney will not be appearing

in the movie.
Thanks to Oclumencia

, SnitchSeeker

and BlogHogwarts

for the links.