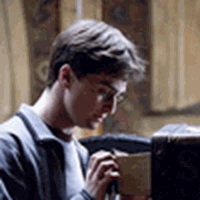 'Half-Blood Prince'
New image from 'Half-Blood Prince'?
May 15, 2008 at 7:36 PM ET
Geri HPANA

harry potter and the half-blood prince movie, half-blood prince movie, hbp movie
---
A new image

, which seems to be from the Harry Potter and the Half-Blood Prince movie, has appeared online. This new image features Daniel (Harry) in similar clothing in this image

which Warner Bros. released back in December 2007.
Many thanks to Oclumencia

for the link.