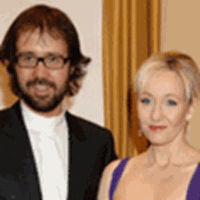 Dr. Murray & JKR
Rowling wins privacy court case appeal
May 7, 2008 at 7:51 AM ET
Geri BBC

jk rowling, jkr, jo rowling, harry potter author, hp author
---
Last year we told you

of a court battle in which Harry Potter author J.K. Rowling lost the privacy rights case involving her son. Ms. Rowling appealed that this decision and today won

the appeal.
Ms. Rowling and her husband, Dr. Neil Murray, released the following statement after the ruling:
We understand and accept that with the success of Harry Potter there will be a measure of legitimate media and public interest in Jo's professional activities and appearances.
However, we have striven to give our children a normal family life outside the media spotlight.
We are immensely grateful to the court for giving our children protection from covert, unauthorised photography; this ruling will make an immediate and material difference to their lives.
The case revolved around the publication of long-lens photographs taken of her son when he was 18 months old in 2004