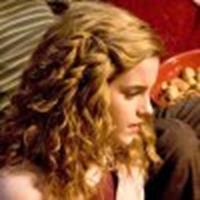 Emma Watson
Hi-res pic of trio in 'Half-Blood Prince'
March 20, 2008 at 1:21 PM ET
Cheeser HPANA (via Warner Bros.)

harry potter and the half-blood prince photo, daniel radcliffe, emma watson, rupert grint, daily prophet, hbp picture
---
Thanks to Warner Bros. for sending over the official high-resolution version of a photo from Harry Potter and the Half-Blood Prince that has been making its rounds online recently.
The production still features Rupert Grint (Ron Weasley), Emma Watson (Hermione Granger) and Daniel Radcliffe (Harry Potter) discussing an issue of "The Daily Prophet."
Click here for the photo!