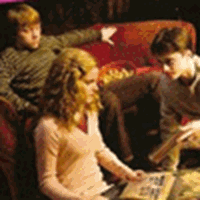 Ron, Hermione & Harry
New image from 'Half-Blood Prince'
March 19, 2008 at 7:32 AM ET
Geri HPANA

harry potter and the half-blood prince movie, half-blood prince movie, hbp movie
---
A new image from the Harry Potter and the Half-Blood Prince movie will be previewed in next weeks issue of Nick magazine. The image

and article, while small, shows Harry, Ron and Hermione in the Gryffindor common room.
You can see a larger version of the image here

courtesy of Ron and Hermione source

and thanks to Portus

for the original news tip.
We are trying to get a high resolution version of the image and will let you know if and when we do.