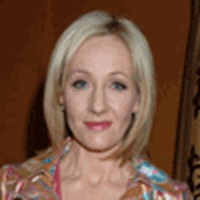 J.K. Rowling
J.K. Rowling included on Forbes 'Celebrity Billionaires' list
March 5, 2008 at 8:26 PM ET
Geri The Leaky Cauldron (via Forbes.com)

jk rowling, jkr, jo rowling, harry potter author, hp author
---
J.K. Rowling, author of the Harry Potter series is included

on Forbes 'Celebrity Billionaires' list with a listed net worth of $1 billion dollars.
Ms. Rowling is the only author on the list and joins such notable celebrities as Steve Jobs, Oprah Winfrey, Steven Spielberg and George Lucas.
Once a single mother living on welfare in a cold-water flat in Edinburgh, Scotland, Rowling is now the only billionaire author on our list. The seventh and last installment of her wildly successful Harry Potter series was released last July to throngs of rabid fans who made it the fastest-selling book of all time. More than 11 million copies were sold in the first 24 hours. Feeding the Potter hype machine: The film version of the fifth book came out the same month.