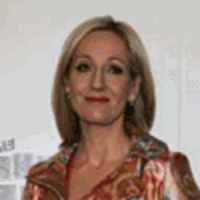 J.K. Rowling
Update: JKR receives South Bank award; discusses 'Harry Potter'
January 29, 2008 at 1:46 PM ET
Geri Yahoo! News (via Reuters)

harry potter books, jk rowling, jo rowling, jkr, south bank awards 2008
---
The South Bank Awards

took place at the Dorchester Hotel in London today with Lord Richard Attenborough presenting

author J.K. Rowling an award for outstanding achievement in the arts in recognition of the Harry Potter series.
In an backstage interview

from the event Rowling states that finishing the series was "more painful than getting divorced" and that she has finished writing about Harry:
It has been the worst break-up of my life - far worse than splitting up with any man.
But it has also been wonderful to stop and draw breath and think, 'My God, look what's happened with an idea I had 17 years ago on a train.'
I think I've definitely finished his story. I said seven books and there have been seven.
You can view pictures from the event here

, here

and here

courtesy of Wire Image, Getty Images and Rex Features.
UPDATE: You can now view some interviews with JKR here

, here

, here

and here

courtesy of UHP

and TLC.