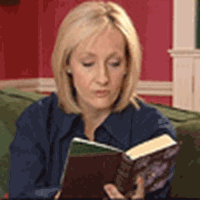 JKR reading 'Beedle the Bard'
Update: 'The Tales of Beedle the Bard' sells for $3.98 million
December 13, 2007 at 9:05 AM ET
Geri CBBC Newsround

j.k. rowling, jo rowling, jkr, tales of the beedle the bard, the children's voice charity
---
Harry Potter author J.K. Rowling's latest book, Tales of the Beedle the Bard, sold

this morning at Sotheby's for £1,950,000 ($3,980,128.89).
JK watched the event via the internet and said:
I'm stunned and ecstatic. This will mean so much to the children desperately in need of help. It means Christmas has come early for me.
All proceeds from the auction will benefit The Children's Voice

charity.
UPDATE: You can now view a video

interview with JKR in which she discusses, ever so briefly, what she may do next.
UPDATE II: We now know

that Amazon purchased the book and they have updated their web site with a press release

:
Even before establishing her charity, J.K. Rowling had done the world a rare and immeasurably valuable service--enlarging forever our concept of the way books can touch people--and in particular children--in modern times. When we deliver Harry Potter, kids are camped out at the post box, and the drivers get hugs.