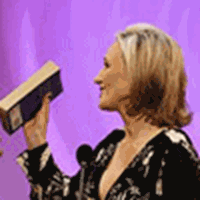 J.K. Rowling
Rowling & Stephen Fry attend British Comedy Awards
December 6, 2007 at 1:47 PM ET
Geri TheSnitch.co.uk (via Various)

jkr, j.k. rowling, jo rowling, harry potter author, stephen fry
---
Last night in London Harry Potter author J.K. Rowling presented

the voice behind the British audio books, the British Comedy Lifetime Achievement award

, at the annual British Comedy Awards show.
The awards show was emceed by Jonathon Ross who jokingly asked Ms. Rowling to sign

a copy of a book by author Philip Pullman and not a Potter book.
You can see some pictures from the event here

courtesy of Rex Features.