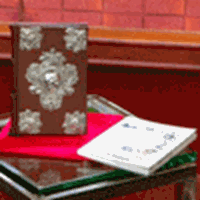 Beedle the Bard'
Video preview of 'The Tales of Beedle the Bard' book
November 26, 2007 at 6:08 PM ET
Geri HPANA

jkr, j.k. rowling, jo rowling, harry potter series, the children's voice, the tales of beedle the bard
---
We previously

told you that Sotheby's will auction off one copy of JK Rowling's newest book The Tales of Beedle the Bard for charity on December 13th.
Earlier this morning U.S. morning show Good Morning America

previewed the soon to be auctioned copy and read a few pages to the delight of Harry Potter fans. All proceeds from the auction will benefit The Children's Voice

charity.
You can watch the video below: