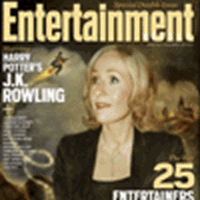 JKR 'Entertainment Weekly'
JKR EW's 'Entertainer of the Year'
November 25, 2007 at 3:50 PM ET
Geri HPANA (via Entertainment Weekly)

jkr, j.k. rowling, jo rowling, harry potter series
---
With 2007 ending entertainment magazines and outlets will start to announce awards from the reflective fields. To start the onslaught, Entertainment Weekly has dubbed

Harry Potter author JK Rowling their Entertainer of the Year, with her image gracing the cover of this week's issue, currently on newsstands.
According to the article:
So we'll keep it simple: J.K. Rowling is our Entertainer of the Year because she did something very, very hard, and she did it very, very well, thus pleasing hundreds of millions of children and adults very, very much. In an era of videogame consoles, online multiplayer 'environments,' and tinier-is-better mobisodes, minisodes, and webisodes, she got people to tote around her big, fat old-fashioned printed-on-paper books as if they were the hottest new entertainment devices on the planet. Let's also credit her for one more thing.
Thanks to everyone who emailed.