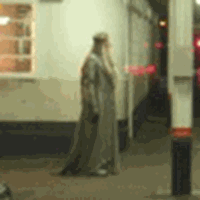 Michael Gambon
Update: 'HBP' filming set report
November 18, 2007 at 1:10 PM ET
Geri HPANA (via HarryPotter-xperts.de)

michael gambon, david yates, harry potter and the half-blood prince movie, half-blood prince movie, hbp movie
---
We first told you on Friday that additional filming for Harry Potter and the Half-Blood Prince would take place this weekend at the Surbiton (a suburban area of London) train station. According to an online German report from the set, Michael Gambon and David Yates were in attendance as well as Daniel Radcliffe's double.
You can read the full set report here

, which is in German but the gist of the report is below thanks to Marie:
The filming was of Michael Gambon standing on the platform with director David Yates requesting that he redo the scene with less gestures again and again. Large numbers of security staff were everywhere directing people away from the track and directing all questions about the filming to the train stations press office, which was of course closed for the weekend. Additional scenes were to be filmed but again, no one will furnish information as to who will be working this weekend.
A photo of Michael Gambon in costume can be seen here

.
Thanks to Marc from HPXperts

for the link. If you are able to give a more in-depth translation please send to us.
Update: Thanks to Lituus we have a more in-depth translation of the article:
Gambon was being filmed from the opposite track, as a train rushes past him. The camera was focused on Gambon, and the train moved past pretty fast (so, it must have been blurry). Gambon was asked to beckon someone, but was apparently not doing it subtly enough (hence the retakes by Yates). It was too cold for Gambon to stand around too long, so for get lighting correct and staging, they had his double around. Gambon would go back to the crew and wear a brown jacket between takes. The crew was also using a black cloth in a faux windows frame in front of the camera, and it was pulled back during a separate shot (a "curtain" really). Also, a separate shot was being filmed with a fog machine blowing steam in front of Gambon or the camera (not sure), so that it would look like a steam locomotive pulling up (and Dumbledore being "revealed" through the steam). Finally, they also had someone wiping the faux-window's glass and it was filmed (as if someone was looking at Dumbledore from inside a window). Dan's double was around, but the reporter doesn't know what he was supposed to do. Dan was also supposed to be there later. Another crew member had a poster with "Tonks", "Lupin" etc. written on it (he couldn't figure out why) Finally, Yates wrapped the scene and told everyone to take a "lunch break" since it was "noon" (actually midnight). They were to film another scene after one and a half hours. He also asked the crew to remove all the equipment from the opposite side. (They were using a cafe on the side that Gambon had stood as a resting/storage area.)
The reporter infers that since the scene(s) that were recently filmed at Glennfinnan did not have the correct weather (according to another set-report) and so, this location might have been used for correcting the shot. He also suggests that, since different sets/locations have been used in the past for Hogsmeade, this may have been used for that as well. He seems to think that Surbiton station itself doesn't fit well with King's Cross and other locations and perhaps only the "train-passes, Dumbledore-beckons-someone-through-steam" parts might be required from here. He guesses that it may either be Harry who sees Dumbledore at the station (not in book at all) or that Dumbledore accompanies young Riddle to the station (not exactly in the book).