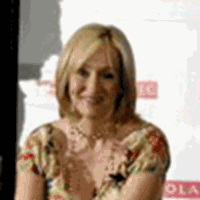 J.K. Rowling
Vote for JKR as Time's 'Person of the Year'
November 8, 2007 at 11:35 PM ET
Geri The Leaky Cauldron

jk rowling, j.k. rowling, jo rowling
---
Once again, TIME magazine is choosing their Person of the Year and are now asking the public to add their opinion to an online poll

. Harry Potter author, J.K. Rowling, is included in this year's list and joins such notable people as Al Gore, Barack Obama, Hillary Clinton and Steve Jobs.
The article has this

to say about Jo.:
Pro: Finished a seven-book epic that will be read by children (and lots of adults) for generations to come. Slowly creeping up on Agatha Christie as the most read author not named Shakespeare.
Con: Seventh book wasn't her best, and hard to argue she was the most important person of 2007.
Vote for your choice, though the editors of the magazine reserve the right to disagree.