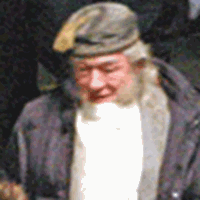 Gambon in costume
Update: Pictures from the 'HBP' movie set
October 26, 2007 at 4:47 PM ET
Geri HPANA (via Various)

harry potter and the half-blood prince movie, half-blood prince movie, hbp, daniel radcliffe, dan radcliffe, michael gambon
---
With filming currently taking place of Harry Potter and the Half-Blood Prince in Lacock, UK, some pictures featuring Daniel Radcliffe and Michael Gambon have appeared

online.
According to the article:
Radcliffe, 18, and Michael Gambon (Albus Dumbledore) were spotted sharing a laugh during a film break. Check out Gambon's hilarious beard protector! The pair filmed the scene at Slughorn's home in "Budleigh Babberton," where Harry and Dumbledore persuade the former Potionsmaster to return to Hogwarts to teach.
Half-Blood Prince is being directed by David Yates and will be released November 21, 2008. Thanks to Joseph for the link.
You can also view additional pictures of the area here

, as well as a report from Friday night's filming here

courtesy of TLC.