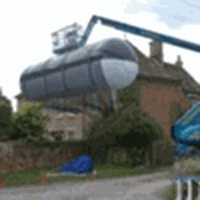 'HBP' filming
Update: Filming starts in Lacock for 'HBP'
October 25, 2007 at 7:25 AM ET
Geri HPANA (via Various)

harry potter and the half-blood prince movie, half-blood prince movie, hbp movie
---
Filming for the sixth Harry Potter film, Half-Blood Prince started in Lacock, UK today. According to a report

the residents are very excited about the prospect of seeing the stars and that a number of the houses have been painted a darker color to make them appear more sinister to shoot scenes with the ghoulish Death Eaters.
A member

of the film crew said:
The light will look like moonlight and it is made up of lots of smaller lights inside to give that strong effect.
Scenes are scheduled to be shot from 5 pm until 5 am each day until Saturday morning and if you happen to capture any pictures of the filming please send our way.
UPDATE: Thanks to TLC you can read

a report from the set, which mentions the high security and props for filming.
UPDATE II: Another report

from filming is now online, which states that Daniel was onset.
UPDATE III: You can see additional pictures of the area here

(scroll down) courtesy of London Taxi Tour.