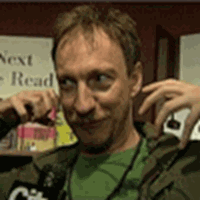 David Thewlis
David Thewlis gives his thoughts on JK's recent reveal & his character
October 24, 2007 at 9:04 PM ET
Geri HPANA (via CityNews.ca)

david thewlis, remus lupin, lupin gay, remus gay, dumbledore gay, dumbledore, jk rowling, jk rowling gay
---
David Thewlis, who portrays Remus Lupin in the Harry Potter series, is currently in Toronto attending the International Festival of Authors

where he is promoting his new book The Late Hector Kipling.
During an interview

he gave his thoughts on J.K. Rowling's recent revelation about Dumbledore and feelings about his own character.
The funny thing when Alfonso Cuarón directed The Prisoner of Azkaban, the first film that I appear in, he had the idea that Lupin was gay and he described my character like a 'gay junkie' . And of course Lupin turns out not to be gay because he marries Tonks and has children.
Thanks to Joseph for the tip.