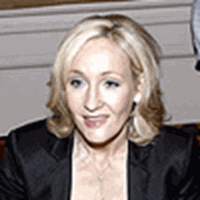 J.K. Rowling
J.K. Rowling in Toronto today for last city visit of "Open Book Tour"
October 23, 2007 at 7:33 AM ET
Geri Yahoo! News (via Canadian Press)

harry potter and the deathly hallows, deathly hallows, hpdh, jo rowling, jkr, jk rowling
---
Author J.K. Rowling will be in Toronto today for an appearance

at the International Festival of Authors.
The event, the last city visit of her "Open Book Tour," where she will answer questions from fans and hand out complimentary signed copies of Harry Potter and the Deathly Hallows. There will also be a brief press conference before the event, where questions about her latest revelation are bound to come up.
The event is scheduled to begin at 10 am, stayed tuned for updates throughout the day and if you happen to attend the event please let us know.