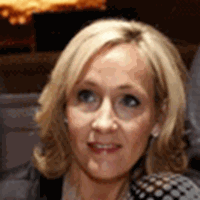 J.K. Rowling
J.K. in NYC for last leg of U.S. 'Open Book Tour'
October 19, 2007 at 3:09 PM ET
Geri HPANA

jo rowling, jkr, jk rowling, harry potter and the deathly hallows, deathly hallows, hpdh
---
J.K. Rowling, author of the Harry Potter series, is in New York City today to finish her "Open Book Tour" in the U.S. by meeting with students at Carnegie Hall. The event, which took place at 11 a.m. this morning, was attended by 1,600 students and the author read a chapter from the last book, Deathly Hallows.
You can see some photos

from the event, now online.
Tonight at 7 p.m. Jo will give a reading and answer additional questions from the 1,000 winners of Scholastic recent's competition. Stay tuned for HPANA's report from one of those winners: our very own moderator Alisha (Prof. Dish).
Some additional information can be found here

from this morning's event.