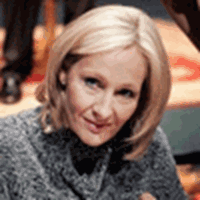 J.K. Rowling
JK visits New Orleans on second stop of 'Open Book Tour'
October 18, 2007 at 4:26 PM ET
Geri Yahoo! News (via The Daily Comet)

harry potter and the deathly hallows, deathly hallows, hpdh, jk rowling, jo rowling, jkr
---
J.K. Rowling, author of the Harry Potter series, stopped

in New Orleans on her "Open Book Tour" today where she was greeted by over 1,500 students from 80 New Orleans area public schools.
JK read the first chapter of Harry Potter and the Deathly Hallows and answered questions from the audience. Rowling said that she was four years old when she was read The Wind in the Willows by her father and fell in love with reading and storytelling.
Scholastic, the U.S. publishers of the book also announced that they were donating 10,000 copies of Harry Potter and the Sorcerer's Stone, the first book in the series, to Orleans Parish public school students as well as donating a complete set of the series to each public school and public library in New Orleans.
Thanks to John for letting us know that pictures

from the event are now online.
The next stop on the tour is New York City tomorrow.