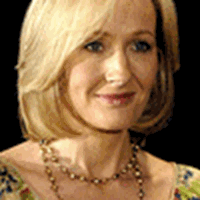 J.K. Rowling
Update: J.K. Rowling discusses Christian imagery in the 'Potter' books
October 17, 2007 at 6:50 PM ET
Geri HPANA

deathly hallows, harry potter and the deathly hallows, hpdh, jk rowling, jkr, jo rowling
---
During her press conference kicking off her "Open Book Tour" in Los Angeles, JK Rowling discussed

the religious themes through all of the Harry Potter books and answers that she could not have put too much into the books because most readers would have guessed the parallels with religion, specifically Christianity, before the release of the last book, Deathly Hallows.
(Please note that both articles linked in this news post contains information on the last book, so if you haven't yet finished reading it please do not do read below.)
JK on religion:
To me [the religious parallels have] always been obvious. But I never wanted to talk too openly about it because I thought it might show people who just wanted the story where we were going.
Rowling also touches on her own feelings with religion by saying:
The truth is that, like Graham Green, my faith is sometimes that my faith will return. It's something I struggle with a lot. On any given moment if you asked me [if] I believe in life after death, I think if you polled me regularly through the week, I think I would come down on the side of yes - that I do believe in life after death. [But] it's something that I wrestle with a lot. It preoccupies me a lot, and I think that's very obvious within the books.
In an additional article

from the press conference, Rowling mentions that all of the actors from the movies had some insight into their characters roles in the last book and that Emma Watson was given the most information and how she reacted when told who she would be kissing.
Thanks to MTV for the links.
JK is currently in New Orleans for her second stop on the "Open Book Tour" and will then venture to New York for a visit to Carnegie Hall on Friday.
UPDATE: Thanks to Shannon for letting us know about another

report in which Jo talks about certain deaths, Dumbledore and free time:
On the Harry Potter encyclopedia:
It's not coming along and I haven't started it yet. It's really not anywhere at the moment. I always said maybe I'll do the encyclopedia and that's still the case, but I never intended it to be the next thing I did. I want to take a break and step back and then in due course, I may go and do that. I've always said, and I stand by that, if I do that it will be for charity. That would be something. But it would be valuable, charity-wise.
On Dumbledore:
I love Dumbledore more for his frailties but it was important I think to show, and it was part of Harry becoming a man to realize that even this man he revered is alone, had his frailties, had made his mistakes. After all, Dumbledore is, although he seems to be so benign for six books, he's quite a Machiavellian figure really. He's pulling a lot of strings. Harry has been a puppet to an extent but I think, I hope I led the reader to a place in the seventh book where they could actually feel sympathy for Snape rather than Dumbledore. That was the trajectory of that story that I was aiming for.