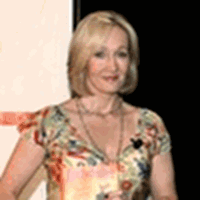 JK Rowling
Update: JK in Los Angeles to start 'Open Book Tour'
October 15, 2007 at 1:50 PM ET
Geri HPANA

harry potter and the deathly hallows, deathly hallows, hpdh, jk rowling, jkr, jo rowling
---
Currently Harry Potter author J.K. Rowling is in Los Angeles on her first stop

for her "Open Book Tour." The first event, with over 1,600 students Los Angeles students, is scheduled to start

shortly with JK reading from the last book in the series, Harry Potter and the Deathly Hallows, as well as taking questions from the audience.
She will then travel to New Orleans for an October 18th event, two events in New York on October 19th and lastly, to Toronto to attend the International Festival of Authors on October 24th.
On related note, contrary to reports from a British tabloid, JK will not be appearing on ABC's Good Morning America and that her only media event while in the States will be a press conference from Los Angeles today, according to our friends at Scholastic and ABC. If there are any changes to this we will be sure to let you know and don't forget that HPANA will be in the audience at one of the New York events and will post a report on Friday night.
You can read the press release for the event here

.
UPDATE: According to Reuters

JK didn't tell her audience what she will be working on next but did say:
I want to fall in love with someone the way I fell in love with Harry. I never think about a particular genre. It is all about the story and the characters, but it has to be something I adore.
You can also read a little bit from the event here

courtesy of TLC and see additional images from Getty Images

.
UPDATE II: There is now more

news from the event from earlier today, in which Jo discusses Snape and Dumbledore:
Snape is vindictive, he's cruel. He's not a big man. But he loves. I like him, but I'd also like to slap him hard.
Although [Dumbledore] seems to be so benign for six books, he's quite a Machiavellian figure, really. He's been pulling a lot of strings. Harry has been his puppet. When Snape says to Dumbledore [towards the end of 'Hallows'], 'We've been protecting [Harry] so he could die at the right moment' - I don't think in book one you would have ever envisioned a moment where your sympathy would be with Snape rather than Dumbledore.