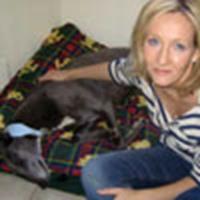 Sapphire and Jo
JK Rowling adopts greyhound
October 8, 2007 at 6:00 PM ET
Cheeser HPANA (via The Herald)

jk rowling, jo rowling, greyhound adoption, greyhound rescue, fife greyhound rescue, celia's greyhound rescue
---
The author of the Harry Potter series has adopted an animal from Celia's Greyhound Rescue in Fife, The Herald reported

today.
JK Rowling, who gave more than £950 above the normally requested donation, was looking for a mate for her Jack Russell terrier named Butch:
It was only when [Celia Ferine] asked for a £30 donation to Greyhound Rescue Fife, which the 61-year-old runs with her husband, Jimmy, near Kirkcaldy, that she realised she had been dealing with the world's most famous children's author.
At the bottom of a cheque for £1000 was the signature millions of Harry Potter fans would die for. "When I looked at the cheque I couldn't believe it. The first thing I noticed was the amount she had made it out for," Mrs Fernie said yesterday.
Rowling was grilled on her home and yard conditions, especially whether there was a fence high enough to keep the greyhound, named Sapphire, safely contained.
Pictures of Rowling and her dogs can be viewed here!

(click on "Harry Potter Page" at left)
Thanks to Joseph for the tip.