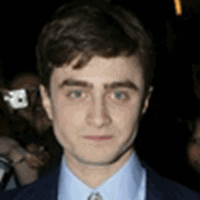 Daniel Radcliffe
Daniel gives his thoughts on filming 'Half-Blood Prince'
September 24, 2007 at 6:14 PM ET
Geri Harry Potter Fan Zone (via MTV.com)

harry potter and the half-blood prince movie, half-blood prince movie, hbp movie, daniel radcliffe, dan radcliffe
---
To add to our previous news post in which David Yates talks about the upcoming Harry Potter and the Half-Blood Prince movie, Daniel Radcliffe (Harry Potter) gives his thoughts

on the film and what he is looking forward to filming.
I'm really looking forward to filming the cave and all the stuff in there with the lake and the Inferi. Me and [Michael] Gambon in a row boat for a few days. It's gonna be amazing.
I thought it was all gonna be largely visual effects, but they have built the cave. So it's gonna be very interesting to film.
Harry Potter and the Half-Blood Prince is set to be released in November 2008.
UPDATE: To add to Dan giving his thoughts on the next movie, in a recent video interview

Dan answers 10 questions posed by AP. Thanks again to Ed from Voices from Krypton for link.