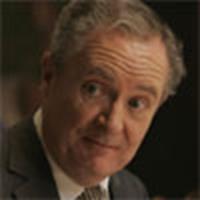 Jim Broadbent
Jim Broadbent is Horace Slughorn, says actor
September 17, 2007 at 12:28 PM ET
Cheeser The Leaky Cauldron (via Dark Horizons)

jim broadbent, horace slughorn, harry potter and the half-blood prince, harry potter 6 movie, harry potter movie 6, horace slughorn actor, horace slughorn casting
---
In an upcoming exclusive interview

with our friend Garth Franklin at Dark Horizons, actor Jim Broadbent confirms he has been chosen to portray Horace Slughorn in "Harry Potter and the Half-Blood Prince," which coincidentally began principal filming today in the UK.
The actor, who was recently seen in Hot Fuzz, also said he has been going to costume fittings and that his new character is quite comical:
"Who am I? He's called Horace Slughorn. He's a retired teacher of magic who's drawn back out of retirement because he's got some secrets they need in the battle against the Deatheaters..."
Broadbent will also be seen in 2008's Indiana Jones and the Kingdom of the Cyrstal Skull.