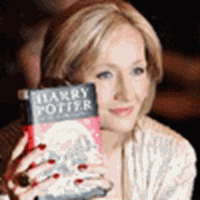 JK Rowling
JK Rowling to visit Toronto
September 17, 2007 at 10:51 AM ET
Geri HPANA (via Globe & Mail)

harry potter and the deathly hallows, deathly hallows, hpdh, book 7, jkr rowling, jkr, jo rowling, raincoast books, international festival of authors
---
JK Rowling, author of the Harry Potter series, will be appearing

at this year's International Festival of Authors in Toronto, Canada in October. Ms. Rowling will read from Harry Potter and the Deathly Hallows, answer questions from fans and autograph complimentary copies of the seventh book.
Tickets for the event, hosted by Toronto's International Festival of Authors

and Rowling's Canadian publisher, Vancouver-based Raincoast Books

are free. Look here

for all the details:
But to handle the expected demand, admission is being orchestrated through an online lottery and via Canadian libraries and the country's 79 public and Catholic school boards. Starting this afternoon and running through Sept. 27, 10 pairs of tickets will be made awarded each day to fans on-line. They're asked to go to www.raincoast.com/harrypotter where an entry form and rules are posted. From these submissions, 10 pairs of tickets will be chosen at random daily.
Rowling last held a public reading in Toronto on October 24, 2000, where she garnered a Guiness World Record for the "World's Largest Ever Reading."