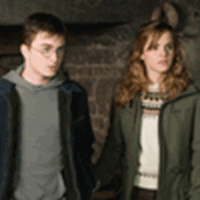 Dan & Emma
'Potter' stars & movies up for awards
September 5, 2007 at 11:41 PM ET
Geri HPANA

harry potter and the order of the phoenix movie, order of the phoenix movie, ootp movie, dan radcliffe, daniel radcliffe, emma watson, ralph fiennes, half-blood prince movie, hbp movie
---
It's that time again, awards season. This time around Spike TV have listed the Harry Potter movie, Daniel Radcliffe and Ralph Fiennes in their second annual SCREAM

awards.
The movie is the following categories: 'Ultimate Scream,' 'Best Fantasy Movie,' 'Best F/X' & 'Best Sequel,' while Daniel Radcliffe is up for Fantasy Hero' and Ralph Fiennes is up for 'Most Vile Villain.' Starting Friday, September 7th through Friday, October 19th fans can vote for their favorites by visiting scream.spiketv.com. The awards show, which will be taped on Friday, October 19th at the Greek Theatre and shown on Spike TV on Tuesday, October 23rd (10:00-11:00 PM, ET/PT).
Also, thanks to Paul for letting us know that Movies.com are asking for readers votes in the annual Reader's Poll

. Daniel Radcliffe is listed in the 'Hottest Up and Coming Male' and Emma Watson in the 'Hottest Up and Coming Female' categories. The sixth movie Half-Blood Prince is listed in the 'Can't Wait For' category. You can vote up until September 25th with the results of the poll to be announced on October 2nd.