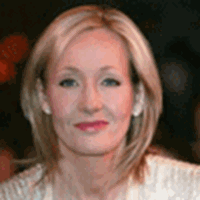 JK Rowling
Scholastic announces NYC schools to participate in Rowling's open book tour
September 5, 2007 at 8:03 PM ET
Geri HPANA (via Scholastic)

harry potter and the deathly hallows, deathly hallows, hpdh, jk rowling, jo rowling, jkr, scholastic
---
Scholastic, the U.S. publisher of the Harry Potter books, announced today the 40 New York City public schools that will participate in the J.K. Rowling Open Book Tour. Ms. Rowling will read from the last book in the series, Harry Potter and the Deathly Hallows, answer questions about the entire series, and sign a book for every student.
You can read the full press release here

which includes the list of schools that will participate.
New York City Schools Chancellor Joel Klein said:
The love of reading has changed the lives of countless children. But it doesn't always come naturally; it often takes a lot of effort. Our students have worked hard to build their reading skills during the past few years. We are proud to partner with Scholastic and the amazing Ms. Rowling to reward students' efforts and encourage their continued success.