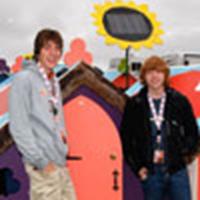 Rupert & Oliver
'Potter' actors attend V Festival in UK
August 23, 2007 at 2:29 PM ET
Geri HPANA (via Various)

harry potter and the half-blood prince movie, half-blood prince movie, hbp movie, rupert grint, oliver phelps, tiana benjamin
---
This past weekend Harry Potter actors Rupert Grint (Ron Weasley), Oliver Phelps (George Weasley), and Tiana Benjamin (Angelina Johnson) attended this year's V Festival in England and pictures

and video

from the event are online.
Also while at the event Rupert had a quick chat with Jo Whiley for her radio show on BBC1. During the interview Rupert mentions that the cast has had a read-through of the Half-Blood Prince movie script:
We sort of read the script through. We got all the cast to come around to read the script and we'll be filming it for another year so... Ron's got a girlfriend in this one. It's a little bit more intense for him! [laughs] So it should be fun!
The interview is in real player and located under Monday under "Listen Again." Rupert is at the 21 minute mark.