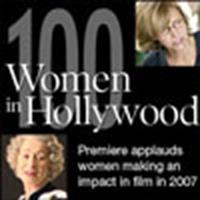 '100 Women in Hollywood' list
Watson & Rowling included in '100 Women in Hollywood' list
August 21, 2007 at 10:19 PM ET
Geri HPANA (via Premiere)

jkrowling, jkr, jo rowling, book 7, harry potter 7, harry potter book 7, harry potter and the order of the phoenix movie, order of the phoenix movie, ootp movie, emma watson
---
JK Rowling, the author of the Harry Potter novels and actress Emma Watson are included

in Premiere's '100 Women in Hollywood' for making an impact on film in 2007.
JK and Emma join such notables as Helen Mirren, Julia Roberts, Kate Winslet, Elizabeth Gabler, President of Fox 2000 Pictures, Polly Cohen, President of Warner Independent Pictures, Barbara Broccoli and Nicole Kidman, to name a few.
WORD WIZARD
J.K. Rowling
The author behind the second highest-grossing film franchise in history after James Bond) cast a powerful spell with the release of Harry Potter and the Order of the Phoenix, which broke Spider-Man 2's record for the best Wednesday opening in history. one week later, the final book in the series was released to riotous crowds who bought 8.3 million copies on the first oday in the U.S. alone - and Warner Brothers acknowledged that movie ticket sales for Phoenix actually fell because fans were too busy reading. What a novel idea!
HOGWARTS HOTTIE
Emma Watson
Whether or not the young actress can and will play anyone besides the Harry Potter film franchise's Hermione is irrelevant until 2010, when the series will reach its grand finale. Until then, she'll amass more and more fans while putting away $4 million per film into her college fund.
The site lists numbers 1 through 94, you can pick up the October 2007 issue of Elle magazine to see more Women in Hollywood — among them one of the hottest faces in Hollywood today.