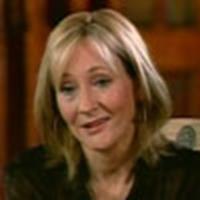 JK Rowling
JK begins to answer some questions about 'Potter' 7
July 26, 2007 at 8:06 AM ET
Geri HPANA (via Today Show)

harry potter and the deathly hallows, deathly hallows, hpdh, book 7, jkr rowling, jkr, jo rowling
---
In part one of a two part interview with Harry Potter author JK Rowling, JK answers

some of those nagging questions that fans may have about the series.
She lets us know about some things from Harry Potter and the Deathly Hallows such as the epilogue, deaths, characters and more. Please don't read or view if you have not read the book as it does contain spoilers.
Part two of the interview will air tomorrow morning on the Today Show and Dateline on Sunday will devote one hour to Harry Potter. Please check your local listings for times.
You can now also view the video interview at the link above.