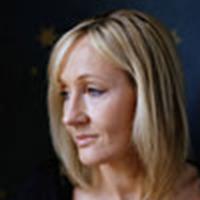 JK Rowling
JKR discusses the past & the future
July 25, 2007 at 11:13 PM ET
Geri HPANA (via USA Today)

jk rowling, jkr, jo rowling
---
In a new interview

author JK Rowling discusses what she is currently working on, her disappointment with spoilers from Harry Potter and the Deathly Hallows appearing on the web before publication, on not writing anything in the future as popular and mentions that she has no pressure to write.
Jo on writing additional fantasy books:
I think that there will be some disappointment if I don't write another fantasy. But I must admit, I think I've done my fantasy. To go and create another fantasy universe would feel wrong, and I don't know if I'm capable of it.
On what she is currently working on:
I'm sort of writing two things at the moment. One is for children and the other is not for children. The weird thing is that this is exactly the way I started writing Harry. I was writing two things simultaneously for a year before Harry took over. So one will oust the other in due course, and I'll know that's my next thing.