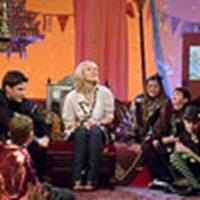 JK Rowling
JK appears on 'Blue Peter,' receives award & answers questions
July 20, 2007 at 2:26 PM ET
Geri CBBC Newsround

jk rowling, jkr, jo rowling
---
Today in the UK Harry Potter author appeared on the afternoon show Blue Peter

where she answered questions by competition winners and received a honor from the show. Video is now online at the Blue Peter site (you must have real video to watch the videos).
Ms. Rowling was also honored

with a gold Blue Peter badge and said:
You have no idea what that means ... thank you very, very much.
CBBC Newsround

also has a brief article on the show.
By the way, she doesn't give anything away about Harry Potter and the Deathly Hallows.