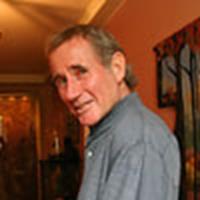 Jim Dale
Jim Dale knows how the series ends
July 16, 2007 at 10:20 PM ET
Geri Yahoo! News (via New York Times)

harry potter and the deathly hallows, deathly hallows, hpdh, book 7, jim dale
---
Jim Dale, the U.S. narrator of the Harry Potter series, is one of the few people in the world who knows how

the Harry Potter series ends.
Dale finished recording for the audio for the Harry Potter and the Deathly Hallows book over two months ago, a process that took two-and-a-half weeks and is sworn to secrecy as to how it ends.
He has recorded every single word of the series, amounting to 117 hours and 4 minutes, won a Grammy and holds the record for creating the most voices in an audiobook in the Guinness Book of World Records.
Mr. Dale will be at the Union Square Barnes & Noble in New York this Friday, July 21 where he will discuss

how he got the role of narrator, how he creates his characters' voices and read excerpts from the previous books. After the release of the last book in the series he will do a tour of Houston, Washington, Charlotte, N.C. and Philadelphia.
Harry Potter and the Deathly Hallows will be released in hardback, braille, deluxe version and audio Cassette/CD on Friday, July 21st.