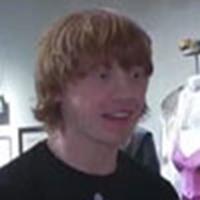 Rupert Grint
Rupert spotlighted on USA Today's 'Celeb Watch'
July 15, 2007 at 11:09 PM ET
Geri HPANA (via USA Today)

harry potter and the order of the phoenix movie, order of the phoenix movie, ootp movie, rupert grint
---
We first told you a few days ago that USA Today would be featuring Harry Potter actor Rupert Grint in their Celeb Watch this Monday. Their interview, which was conducted while he was in Los Angeles for the premiere of Order of the Phoenix is now live

on their site where you can see Rupert talk about quidditch in the next movie, tries out some prank candies and gets close to a stupefied Hermione Granger.
Rupert also answers the 7 questions that U.S. publisher Scholastic has been asking fans in the lead up to the release of Harry Potter and the Deathly Hallows.
Rupert's answers to some of the questions:
Q: Who will live, who will die?
A. Grint guesses that Harry and evil Lord Voldemort meet their maker. (As for fans on the site, the vast majority think both live.)
Explains Grint: "I think Harry will die because of the prophecy in (Order of the Phoenix) that Harry or Voldemort will die." But believing that Rowling couldn't allow Harry to die in vain, Grint goes on to guess that "if Harry does die, Voldemort can't live, can he?" For his part, Grint is willing to take one for the team. "I wouldn't mind dying," he says. "It would be a cool scene to shoot."
Who winds up with whom?
A. It'll be a family affair, Grint believes, with his Ron cuddling up to pal Hermione, while Harry hooks up with Ron's sister, Ginny (37% of fans have picked Ron and Hermione; 28%, Harry and Ginny).
"Harry's sort of a Weasley anyhow since my parents have taken him in," says Grint. "And there's definitely something there between Ron and Hermione," adds Grint, who in real life is currently uncoupled. But kissing co-star Emma Watson (Hermione), he hypothesizes, "is going to be a little bit awkward because we've known each other so long."
Thanks once again to Alex from USA Today for the tip.