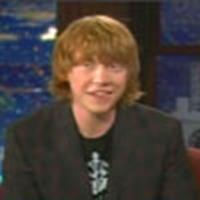 Rupert Grint
Update: Video of Dan & Rupert's latest TV appearances
July 14, 2007 at 11:18 AM ET
Geri HPANA

harry potter and the order of the phoenix movie, order of the phoenix movie, ootp movie, dan radcliffe, rupert grint, daniel radcliffe
---
Daniel Radcliffe appeared on the Early Show yesterday to promote Harry Potter and the Order of the Phoenix while in New York. Rupert Grint's appearance on the Late Late Show with Craig Ferguson aired earlier this morning, which was filmed while he was in Los Angeles.
Dan's appearance on the Early Show can be downloaded here

(39.5 MB, QuickTime). They have also posted an interview

with Dan on their site.
You can download Rupert's appearance here

(25.1 MB, QuickTime).
Both videos are large so please remember to right-click and save target as... for each video.
On another note, as a reminder, Emma Watson will appear on the Early Show

on Monday, July 16 and Rupert on Tuesday, July 17 - both were pre-recorded earlier this week. Please check your local listings for times.
UPDATE: Thanks to Alex from USA Today for letting us know that they will be putting online an interview with Rupert Grint starting on Monday, July 16:
USA TODAY entertainment reporter Will keck interviews Harry Potter and the Order of the Phoenix star Rupert Grint in this week's Celeb Watch going live online Monday, July 16. In this lively video interview, Rupert opens up to Will about his desire to play qudditch, tries out some prank candies and gets close to a stupefied Hermione Granger.
We hope that you and other Harry Potter fans will check out this exclusive video here

.