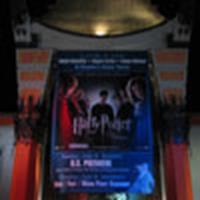 Grauman's Chinese Theater
Fans line up for U.S. 'Phoenix' premiere, 18 hours early
July 8, 2007 at 1:34 AM ET
Cheeser HPANA

harry potter and the order of the phoenix premiere, harry potter movie premiere, grauman's chinese theater, harry potter fans
---
Anxious Harry Potter fans hoping to catch a glimpse of their favorite stars began arriving at Grauman's Chinese Theater in Hollywood tonight, 18 hours before the U.S. premiere of Order of the Phoenix here.

HPANA has learned that Warner Bros. received a city permit to close down Hollywood Boulevard outside the theater Sunday. The studio will also set up barricades and decorations overnight.

While Grauman's personnel advised a group of young women not to spend the night on the street, some diehard fans are trying to stake a claim to valuable real estate just behind the barricades in the hopes they'll have direct contact with stars like Daniel Radcliffe (Harry Potter), Emma Watson (Hermione Granger) and Rupert Grint (Ron Weasley).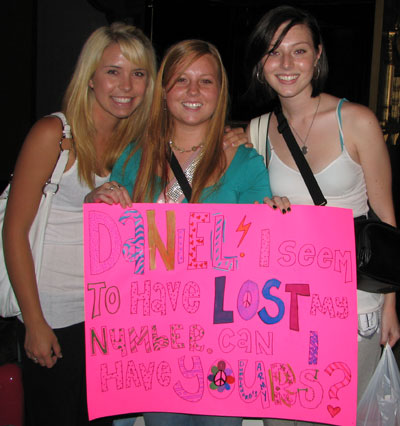 Diehard fans Lauren, Randi and Destin, from Orange County, proudly show off a homemade sign as they arrive 18 hours prior to the premiere of Harry Potter and the Order of the Phoenix at Grauman's Chinese Theater in Hollywood, Calif.
As of midnight, about 50 fans had lined the street opposite the theater.
HPANA on Sunday will bring you comprehensive coverage of the red carpet arrivals, premiere and after-party. Then on Monday, stay tuned for reports from the press conference and cement-casting ceremony.