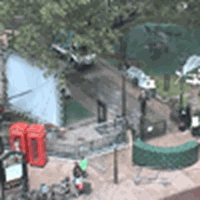 Premiere web cam
Live web cam set-up for 'OotP' premiere
July 2, 2007 at 7:03 AM ET
Geri HPANA (via PRWeb)

harry potter and the order of the phoenix movie, order of the phoenix movie, ootp movie
---
To add to the live streaming

of the UK premiere of Harry Potter and the Order of the Phoenix, you are now able to view the location via web cam

starting today.
Currently Leicester Square, where the premiere is taking place, is being set up for the festivities.
Don't forget to check out the premiere via the Official UK web site

which is scheduled to kick-off tomorrow at 5 pm (BST).
UPDATE: The web cam is currently not working, but keep checking back to see the area be transformed for the premiere on Tuesday.