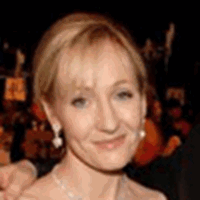 JK Rowling
A walk down 'Harry Potter' lane with a Scottish reporter
June 29, 2007 at 7:36 PM ET
Geri HPANA (via Glasgow Herald)

harry potter and the deathly hallows, hpdh, deathly hallows, hp7, jk rowling, jo rowling, jkr
---
With just about three weeks to go till the release of Harry Potter and the Deathly Hallows we have a new article

from a reporter who was one of the first to interview the author, JK Rowling, on what has now become a worldwide phenomenon.
The reporter reminisces on meeting JK before the publication of the books, mentions the good and bad publicity and how JK turned the tables on the press. There are also a few lines from three fans that met JK over 10 years ago when she visited their school as a completely unknown author.
Will the Potter books be just as popular in the years to come, according to this reporter, yes:
I'm sure they will. Why? Like the best fantasies, she creates an extraordinary and intriguing world that draws in young readers and holds them there. Children often say they feel as if they are "inside" the story. Some of the later books are, frankly, a bit flabby, but open any of the first three at any page and what strikes you is their colourful inventiveness: portraits that speak, a flying Ford Anglia, Quidditch, the Sorting Hat, baby dragons fed on brandy and chicken blood aged 12, Jill Allardice described Philosopher's Stone as "an imagination in overdrive".
The writer asks: 'Will Harry survive?
Your guess is as good as mine, but it's worth remembering something Joanne said in 2000 when we were discussing the importance for the dramatic tension in her books of there being limits to what is susceptible to magic. One fundamental is that you can't reverse death. "That's a given," she said, "though in book seven you'll see just how close you can get."
Harry Potter and the Deathly Hallows will be published on July 21st, 2007.