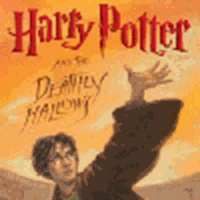 'Harry Potter and the Deathly Hallows'
Toys "R" Us, Barnes & Noble announce NYC events for 'Deathly Hallows'
June 28, 2007 at 8:24 PM ET
Geri HPANA

harry potter and the deathly hallows, hpdh, deathly hallows, hp7, book 7, jim dale
---
Last month we told you about the Barnes & Noble's special event featuring Harry Potter U.S. narrator Jim Dale at one of their New York stores to celebrate the release of Harry Potter and the Deathly Hallows. We now have the full details of the event

, which will include bestselling children's authors and a live webcast of the event on the B&N website.
From the release:
The five hours of live entertainment will feature appearances, discussions, and signings by favorite Disney authors including:
Dave Barry (via video) and Ridley Pearson, co-authors of The New York Times bestselling prequels to Peter Pan, Peter and the Starcatchers and Peter and the Shadow Thieves, as well as the upcoming final book in the trilogy, Peter and the Secret of Rundoon.
Eoin Colfer (via video), author of the multi-million selling global phenomenon Artemis Fowl series as well as the upcoming Artemis Fowl: The Graphic Novel.
Rick Riordan, author of the number one New York Times bestselling series Percy Jackson & The Olympians.
Jonathan Stroud, author of the bestselling Bartimaeus Trilogy.
Cinda Williams Chima, author of The Warrior Heir and The Wizard Heir.
Rob Kidd, author of The New York Times bestselling series Pirates of the Caribbean: Jack Sparrow.
Barnes & Noble will kick off the celebration of the seventh and final book in the J.K. Rowling series, Harry Potter and the Deathly Hallows, at 5PM. Radio Disney will emcee the celebration and entertain guests with games, prizes, and music. The event will also be webcast live on Barnes & Noble.com

(www.bn.com/midnightmagic).
We have also learned that toy store Toys "R" Us will be hosting

a special event at their flagship store in Times Square, on Friday, July 20. Festivities will start at 9 p.m. and include games, quizzes and prizes.
Come dressed as your favorite Harry Potter character, or be like Dobby and wear your most miss-matched, oddest socks for opportunities to win prizes. Test your Harry Potter knowledge at N.E.W.T. levels, see magic and wizardry, and enjoy other exciting activities. Plus, guests who purchase Harry Potter and the Deathly Hallows will receive a commemorative glow-in-the-dark poster only available at Toys "R" Us Times Square!