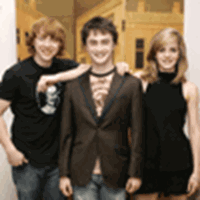 Rupert, Dan & Emma
Audio Q&A from 'Order of the Phoenix' press conference
June 22, 2007 at 3:53 PM ET
Geri HPANA

harry potter and the order of the phoenix movie, order of the phoenix movie, ootp movie, dan radcliffe, rupert grint, half-blood prince movie, daniel radcliffe, emma watson, david heyman, david yates
---
HPANA was in attendance at the press conference for theHarry Potter and the Order of the Phoenix movie which took place in London earlier today. Stars Daniel Radcliffe, Emma Watson, Rupert Grint, producer David Heyman, director David Yates and screenwriter Michael Goldenberg attended and answered questions from the media.
The first press conference with Dan, Emma and Rupert lasted 45 minuets and each answered questions about their life, the movies, the last book and their characters and what they want to do after the series has ended.
Some highlights:
How do they initiate a new director
Emma touched briefly on her late decision to re-sign for the remaining movies
Growing up with the characters
Answers in reference to book 7, Dan mentions that JK's husband knows the outcome (no word on that from JK)
Dan clears up that he never had any plans to buy a Ford Punta; Emma talks about her Apple Mac and taking driving lessons; Rupert surprises everyone by telling us that he bought an ice-cream van
Dan talks about the emotional angst of Harry and his character Alan from his West End play
Each discusses what they want fans to get from Order of the Phoenix
Working with David Yates and Dan jokingly tells what he would do to David to keep him around
Their favorite scenes
Fringe shock when told that people were placing bets on Harry's demise in the last book
Their careers post Harry Potter
You can listen to all of the press conference at the links below (please remember to right-click and save target as…)
After the first press conference we had a chance to hear from producer David Heyman, director David Yates and screenwriter Michael Goldenberg where we heard officially from the David's that David Yates was directing the sixth movie, which starts filming in September.
Some highlights from the second press conference:
Choosing what stayed in the movie
Picking Imelda Staunton as Prof. Umbridge
Discussing removing characters with JK Rowling, who recommended that maybe they shouldn't do that as they may play a part in the last movie
How they encouraged the kids to portray their characters for this film
Filming to start on Half-Blood Prince in September, David Yates returning
Connections between the politics in the book and in real time today
You can listen to the audio from this conference at the links below (please remember to right-click and save target as…).
You can also read an additional report of the press conference here

. Another interview with Rupert can be read here

where he talks about the director, being disappointed with no Quidditch in the movie and the atmosphere on set. Here

is an interview with director David Yates from the event. Have to also mention that Katie Leung (Cho Chang) appeared at the hotel after the press conference and was very much incognito.
Was there a difference in how you were directed by Yates to achieve that?
Rupert: I dunno, really. Probably sort of subtle little things. I think, just on the whole, 'cause we've been doing it so long, got to know each other more we're probably more relazed with each other.
I think, also, that he used contemporary music he used (during filming) of some of the Common Room scenes. Like a band called The Ordinary Boys, he'd play that in the Common Room and that gives it some sort of more casual feel.
It's a really good atmosphere as well because he's a really nice guy, really laid back and calm.
So, there wasn't as much pressure for you...
Rupert: Definitely. Well, there's always a little bit of pressure, but it was a really good atmosphere, yeah.
Stay tuned for HPANA's review of the movie on July 11th as well as part 2 of our report from our set visit last year.
UPDATE: You can now see some pictures of Dan, Emma and Rupert from the event online

courtesy of UHP

.
UPDATE II: You see the images of the trio in high-resolution here

courtesy of ICM

.
UPDATE: III: You can read a transcript of the trio's interview here

courtesy of DR.co.uk.