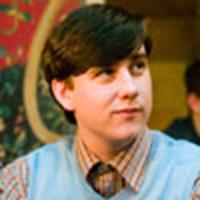 Neville
Bunch of new 'Phoenix' stills
June 22, 2007 at 1:00 AM ET
Cheeser HPANA (via Warner Bros.)

harry potter and the order of the phoenix, order of the phoenix photos, order of the phoenix movie
---
Warner Bros. has released a bunch of new high resolution stills from Harry Potter and the Order of the Phoenix. Included is our first look at Kreacher and a thestral, some Neville Longbottom, Mr. Weasley, Professor Snape, Cho Chang, Voldemort, Remus Lupin, Hagrid, Dumbledore, the Order and of course, Harry himself:
Note that we've seen some of these images in other forms (like the poster book), but these are all fresh releases today from WB.
Photos © 2007 Warner Bros. Entertainment Inc.
Harry Potter Publishing Rights © J.K.R.
Harry Potter characters, names and related indicia are trademarks of and © Warner Bros. Entertainment Inc. All Rights Reserved.
It has been a long, lonely summer for Harry Potter as he awaits his fifth year of study at Hogwarts School of Witchcraft and Wizardry. It's bad enough that he must endure living with the odious Dursleys, but he hasn't received even a note from his classmates and closest friends, Ron Weasley and Hermione Granger. And there has not been any word from anyone in the aftermath of his confrontation with the evil Lord Voldemort. The letter that does arrive is not the kind for which he was hoping--pronouncing that Harry is about to be expelled from Hogwarts for illegally using magic outside of school and in the presence of a Muggle, namely his obnoxious cousin, Dudley. Never mind that it was in defense against an unprovoked and inexplicable attack by two Dementors.
Harry's only hope is to defend himself at what amounts to hardly more than a kangaroo court orchestrated by the Minister of Magic, Cornelius Fudge, who has his own reasons for wanting the young wizard to be gone for good. Much to Fudge's chagrin, Harry is acquitted--thanks largely to the intervention of Hogwarts' venerable Headmaster, Albus Dumbledore--but his return to Hogwarts is, for the first time, apprehensive and uncomfortable. Harry has learned that much of the wizarding community has been led to believe that the story of the teenager's recent encounter with Voldemort is an outright lie, putting Harry's integrity in question.
Feeling ostracized and alone, Harry is beset by nightmares that seem to foretell sinister events. Worse, the one person whose counsel he needs most, Professor Dumbledore, is suddenly acting strangely distant from the confused and hurt young wizard.
Meanwhile, in an effort to keep an eye on Dumbledore and keep the Hogwarts students--especially Harry--in line, Fudge has appointed a new Defense Against the Dark Arts teacher, the duplicitous Professor Dolores Umbridge. But Professor Umbridge's "Ministry-approved" course of defensive magic leaves the young wizards woefully unprepared to defend themselves against the Dark Forces threatening them. So, at the prompting of Hermione and Ron, Harry is convinced to take matters into his own hands. Meeting secretly with a small group of students who name themselves "Dumbledore's Army," Harry teaches them how to defend themselves against the Dark Arts, preparing the courageous young wizards for the extraordinary battle that he knows lies ahead.
Warner Bros. Pictures Presents A Heyday Films Production, "Harry Potter and the Order of the Phoenix." The film stars Daniel Radcliffe, Rupert Grint, Emma Watson, Helena Bonham Carter, Robbie Coltrane, Warwick Davis, Ralph Fiennes, Michael Gambon, Brendan Gleeson, Richard Griffiths, Jason Isaacs, Gary Oldman, Alan Rickman, Fiona Shaw, Maggie Smith, Imelda Staunton, David Thewlis, Emma Thompson and Julie Walters.
The film was directed by David Yates and produced by David Heyman and David Barron. Michael Goldenberg wrote the screenplay, based on the novel by J.K. Rowling. Lionel Wigram served as executive producer.
The behind-the-scenes creative team included director of photography Slawomir Idziak, production designer Stuart Craig, editor Mark Day, costume designer Jany Temime and composer Nicholas Hooper.
Concurrently with the film's debut in conventional theatres, "Harry Potter and the Order of the Phoenix": An IMAX 3D Experience will be released in IMAX theatres worldwide. Using proprietary 2D to 3D conversion technology, scenes from the movie's finale (approximately 20 minutes) have been converted into An IMAX 3D Experience, the most immersive cinematic 3D in the world. The film has been digitally re-mastered into The IMAX Experience with proprietary IMAX DMR (Digital Re-mastering) technology. A special on-screen cue--a green icon of flashing glasses across the bottom of the screen--will alert moviegoers when to put the 3D glasses on, and a red icon will appear, indicating when the glasses should be taken off. IMAX, IMAX 3D, IMAX DMR, IMAX MPX, The IMAX Experience and An IMAX 3D Experience are trademarks of IMAX Corporation.
"Harry Potter and the Order of the Phoenix" will be distributed worldwide by Warner Bros. Pictures, a Warner Bros. Entertainment Company.
This film has been rated "PG-13" by the MPAA for "sequences of fantasy violence and frightening images."