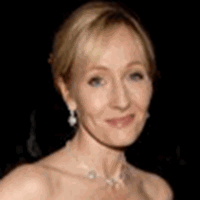 JK Rowling
JK Rowling interviews in July
June 13, 2007 at 10:45 AM ET
Geri HPANA

harry potter and the deathly hallows, deathly hallows, hpdh, book 7, jkr rowling, jkr, jo rowling
---
Shortly before and after the publication of Harry Potter and the Deathly Hallows, author JK Rowling is scheduled to give two television interviews for British and American fans.
Ms. Rowling is scheduled to appear

on the Friday Night with Jonathon Ross show on Friday, July 6 on BBC One:
Jonathan Ross concludes the current season of his multi-award-winning BBC One show Friday Night With Jonathan Ross with a rare and exclusive interview with JK Rowling.
The one-woman publishing phenomenon and author of iconic literary creation Harry Potter appears on Friday 6 July at 10.35pm.
Please send our way if you can capture this show.
There will be three airings of interviews

with Ms. Rowling on the Today show on Thursday, July 26th and on Friday, July 27th and on Dateline on Sunday, July 29th. You can view

the video announcement as well as a mystery question

asked by a Harry Potter fan:
In her only television interview after the highly-anticipated release of the 7th and final installment in the Harry Potter series, author J.K. Rowling will sit down with NBC's Meredith Vieira in her home city Edinburgh, Scotland. This exclusive interview marks the first time she will talk about the worldwide reaction to the final Harry Potter volume and the much anticipated and guessed-about Potter finale, Harry Potter and the Deathly Hallows. Rowling will also discuss her future plans beyond the best-selling series. The interviews will air on Today, Thursday, July 26 and Friday, July 27 and on Dateline, Sunday, July 29. (Please check your local listings for times)
Thanks to Krista and TLC

for the news.
Don't forget that Ms. Rowling is also scheduled to appear on Blue Peter in the UK, which will be taped on on July 5th and air on television on July 20th. The competition

to attended this show closes on June 15th.