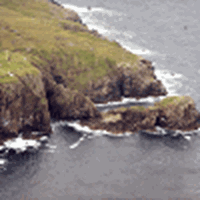 Cape Wrath, Scotland
WB's scouting Scotland for 'Half-Blood Prince' filming locations
May 27, 2007 at 9:38 AM ET
Geri The Scotsman

harry potter and the half-blood prince movie, half-blood prince movie, hbp movie
---
Last month a Warner Bros. representative reviewed

areas in Scotland for filming locations for the Harry Potter and the Half-Blood Prince, which is set to start filming later this year. The locations featured caves and cliffs which may suit key scenes in the movie.
The main locations that were checked out were:
Smoo Cave, near Durness, which is 200ft long, 130ft wide, and 50ft tall at its entrance
Clo Mor, near Cape Wrath, which at 921ft, are the highest cliffs on the UK mainland
The arches under Cape Wrath, which contain a string of long caves
Stac Clo Kearvaig, a tower of rock that rises 130ft above the waves near Cape Wrath
The cave at the Whaligoe Steps, which lies in a bay enclosed by two large sea cliffs
You may remember that in February we had a report that Warner Bros. had also scouted out areas

in Ireland for possible filming. We will all find out later this year which area won out.