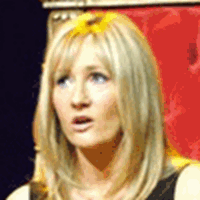 JK Rowling
JK to sign copies of 'Deathly Hallows' in London on July 21
May 23, 2007 at 8:02 AM ET
Geri HPANA (via JKRowling.com)

harry potter and the deathly hallows, hpdh, deathly hallows, scholastic, bloomsbury, jkr, jo rowling, jk rowling
---
JK Rowling has updated her site with news

that fans can win a chance to attend a book signing with the author on July 21 in London. Fans will also receive a free copy of the seventh book, Harry Potter and the Deathly Hallows. Tickets are free for this event but can only be received from her publishers.
The Moonlight Signing
On July 21st 2007, at 12.01 am, 1700 Harry Potter fans will have the opportunity of hearing me read from Harry Potter and the Deathly Hallows at the Natural History Museum in London. They will receive a free copy of the seventh Harry Potter book, courtesy of Bloomsbury, my UK publishers, and I shall be doing a mammoth signing!
To receive tickets for this event, you will need to enter a ballot via the following websites: bloomsbury.com (for UK and Ireland residents) and scholastic.com (for the US). Other English-speaking publishers may also be allotted tickets; keep an eye on their websites.
It has been a long time since I've done a signing and had the chance to speak to readers individually, so I'm delighted that we are launching the book in this way. It will be wonderful for me to get the chance to speak to people who have already read a few chapters while in the queue!
Good luck if you're applying for tickets, and if you're successful, I'll see you shortly after midnight on July 21st!
Fans from Ireland and the UK can enter on the Bloomsbury site

with all your information. The entry must be received by June 11th with the successful fans notified by email by June 18th. Entry to the prize draw via this website is only open to residents of the UK and Republic of Ireland. Residents from other English-speaking territories may also have the opportunity to apply for tickets to the event. An announcement will be made in due course.
The Scholastic web site

states that you can fill out an appllication to attend by printing out the entry form

with your name, home address and phone number and mailing to: Harry Potter and the Deathly Hallows Sweepstakes Scholastic Inc., 557 Broadway New York, NY 10012. Additional details are below:
Entries must be received by June 15, 2007. Seven lucky winners will be selected by a random drawing and winners will be notified on or about June 21, 2007 and flown to London, England by American Airlines. Sweepstakes is open to legal residents of the United States who are under 21.
UPDATE: Raincoast Books has let us know they've posted details for Canadian fans

to enter the contest.
Good luck to all who enter. Thanks Shannon.
UPDATE: Thanks to TLC

for letting us know that UK publishers Bloomsbury have updated

their web site with screensavers featurng the covers of all the Harry Potter books as well as a desktop countdown widget for you to download.