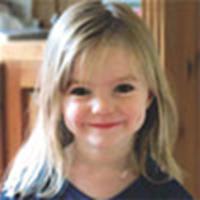 Madeleine McCann
JK Rowling donates to search fund for missing girl
May 15, 2007 at 2:24 PM ET
Cheeser HPANA (via News of the World)

Madeleine McCann, find maddie, missing portugal girl, missing child, missing portugal child, maddie mccann
---
Harry Potter author JK Rowling has made a substantial donation to the search fund

for a missing girl, it was reported over the weekend. Loads of you e-mailed to ask if the news was true and why we hadn't reported it. (While it sounded like something the generous writer would do, we wanted to officially confirm it.)
Kind-hearted JK married a Portuguese TV journalist and her first child Jessica was born in Portugal, a few hours' drive from Praia da Luz where Maddie was snatched 10 days ago.
Her dad Gerry said: "We are very happy and pleased with what you are doing. Anything that can be done to publicise that Madeleine is missing and help with the search is very welcome."
Rowling made the single largest contribution, but is joined by stars such as American Idol's Simon Cowell and Virgin founder Sir Richard Branson.
Four-year-old Madeleine McCann was allegedly kidnapped in Portugal while her family was on vacation from Britain. The search fund, now estimated to be between three and five million dollars, could be rewarded for information leading to Maddie's return to her parents.
(Thanks to Michael for the original tip.)