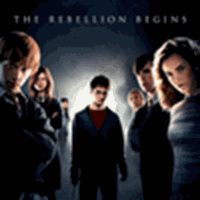 'OotP' poster
Update: New 'Phoenix' trailer now on Yahoo!
April 24, 2007 at 8:59 AM ET
Geri HPANA

harry potter and the order of the phoenix movie, order of the phoenix movie, ootp movie
---
As we told you yesterday, the new domestic U.S. trailer for Harry Potter and the Order of the Phoenix is now available

(in many formats) for viewing on Yahoo!
You can see screencaps of the trailer in our news post from yesterday. According to Yahoo! the new trailer runs 2:13 seconds and is interspersed with new clips not shown in the international trailer, which was released on Sunday.
You can view the new hi-def trailer here

(Quicktime, large file) or download here

(Windows Media, please remember to right click & save target as...). You can view it also via HPANA

YouTube.
UPDATE: Thanks to Paul for letting us know that a new poster from the movie can be seen here

(similar to the IMAX one previously seen.)
UPDATE II: Warner Bros. has just sent over links in Quicktime and Windows Media for you to download the new trailer: