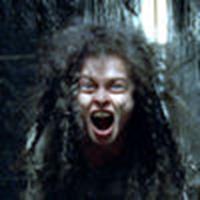 Bellatrix in 'Phoenix'
Sixteen new stills on 'Order'; trailer Tuesday
April 23, 2007 at 8:35 PM ET
Cheeser HPANA (via Warner Bros.)

harry potter and the order of the phoenix, order of the phoenix photos
---
Thanks to Warner Bros. for sending over 16 new high-quality stills from Harry Potter and the Order of the Phoenix. Lots of Voldemort, Harry, Ministry of Magic and battle shots for you to enjoy:
You can view the new images here

or click on the links below. (Note that these are large files, some up to 1MB in size.)
Some of these images are from the domestic U.S. trailer, which will be released Tuesday on Yahoo! and in download-format on Wednesday. (TLC has posted

what they believe to be a description of the trailer.) We will, of course, provide official links as soon as they're live.
Plus, we'll have something extra special to share here tomorrow, so be sure to visit!