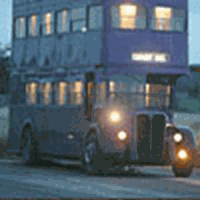 Knight bus
Scholastic announces library tour schedule for the 'HPDH' Knight Bus tour
April 11, 2007 at 9:46 AM ET
Geri HPANA (via Scholastic)

harry potter and the deathly hallows, deathly hallows, hpdh, book 7, scholastic
---
To kick off their publicity campaign

"THERE WILL SOON BE 7" Scholastic, the U.S. publisher of the Harry Potter books, announced this morning the schedule for the 37 library tour schedule for the Harry Potter and the Deathly Hallows Knight Bus Tour.
The tour will launch on June 1, 2007 from New York City and will travel to 37 libraries across the country, ending back in New York at Scholastic headquarters to kick off the release of the seventh book at 12:01 a.m. on July 21, 2007.
The list of cities include libraries in Providence & Boston, MA; Queens, Brooklyn and the Bronx, NY; Newark, NJ; Philadeplia, PA; Cleveland, OH: Chicago, IL; St. Louis, MO; San Diego, Los Angeles, San Francisco in CA.
You can go here

to read the full list of libraries and dates or here

to read the press release.
Lisa Holton, President of Scholastic Trade and Book Fairs, Scholastic says:
We know that one of the most incredible things about Harry Potter is the amazing discussion that it ignites among fans of all ages. The Knight Bus tour is the perfect way to let fans from across the country share their Harry Potter experience as they await the conclusion of this remarkable series.
Members of the public will be able to do the following at each location:
In each location where the bus stops, fans will be invited to board the Knight Bus and share on video their thoughts and feelings about the Harry Potter books. Select video clips from each location will be uploaded for viewing and sharing on http://www.scholastic.com/harrypotter. Additionally, each person will receive a unique username and password so that they can view their own video online.