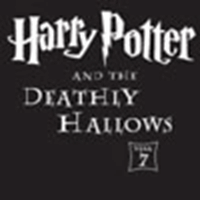 Book 7
Scholastic announces publicity campaign & record printing
March 14, 2007 at 9:18 AM ET
Geri The Leaky Cauldron (via Scholastic)

harry potter and the deathly hallows, deathly hallows, hpdh, book 7, scholastic
---
Scholastic, the U.S. publishers of the Harry Potter series, announced this morning information

of a new media campaign tied in with the release of the last book in the series, Harry Potter and the Deathly Hallows. The campaign, which will kick off on April 17 and run through July 7, will include a Knight Bus National Tour, a 7 Questions of Harry Potter campaign, daily polls, downloadables and printables.
Details of the campaign from

the press release:
The Scholastic "THERE WILL SOON BE 7" marketing plan for Harry Potter and the Deathly Hallows officially launches on April 17th and includes:
- 7 Questions of Harry Potter campaign - Beginning on April 17 2007, Scholastic will release one question every two weeks. These are the big questions fans debate at great length online, at book clubs and in everyday conversations, and that they hope J.K. Rowling will answer in this final installment. The questions will be posted on scholastic.com and released through advertising and publicity outlets. The final question will be released on July 7th.
- Knight Bus National Tour - On June 2nd , exactly seven weeks prior to publication, a touring Knight Bus, based on the unique vehicle in the Harry Potter books, will take off from New York City and travel to 40 libraries in 10 major metropolitan areas all across the country. In each location where the bus stops, fans will be invited to visit the Knight Bus and share on video their thoughts and feelings about the Harry Potter books. Select video clips from each location will be uploaded for viewing and sharing on http://www.scholastic.com/harrypotter.
- Retail Promotions: Scholastic will send THERE WILL SOON BE 7 table top easelbacks and millions of collectible bookmarks to retail accounts and libraries throughout the country. Both the easelbacks and the bookmarks will feature one of the 7 Questions as each is released. Beginning June 2nd, THERE WILL SOON BE 7 countdown standees (a 5 foot corrugated promotional piece featuring Harry Potter and the Deathly Hallows cover art and a 7 week countdown feature to July 21st) will be displayed in retail accounts and libraries. And, finally, to celebrate the big day, Scholastic will distribute millions of tattoos for giveaways at what is sure to be a record number of Harry Potter midnight parties.
- Scholastic's online marketing campaign launches

on April 17th. In addition to a desktop alert downloadable,poster printouts, bookmark printouts, and updated Wizard Challenge questions, the site will include: - Shrieking Shack Poll - will invite fans to vote for their favorite answer to each of the 7 Questions of Harry Potter, and lead them to the Discussion Chamber Message Boards where they can converse with other fans.
- 7 Word Review - fans can review their favorite Harry Potter book in 7 words or less and everyone can vote for their favorite. - Knight Bus Tour Tracker - On June 1, the site will launch the Knight Bus Tour Tracker as well as Knight Bus Blogs and Videos. - Book Release Party Finder - this online guide will list various retailers' midnight parties nationwide searchable by zip code, city and state so fans can find a celebratory party to attend intheir community.
- Advertising - Scholastic's national advertising campaign, based on the theme THERE WILL SOON BE 7, will appear on electronic billboards, online, and in print media nationwide beginning in April.
In other news, Scholastic also announced that there will be a record-breaking first printing of 12 million copies in the U.S. of the book. You may remember that Half-Blood Prince had an initial run in the U.S. of 10.8 million of which 6.9 million copies were sold in the first 24 hours.