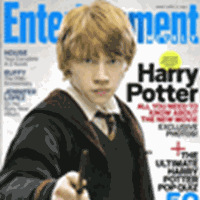 EW cover with Ron
EW features 'Potter' covers & all you need to know about 'OotP'
March 30, 2007 at 1:01 AM ET
Geri HPANA

harry potter and the order of the phoenix movie, order of the phoenix movie, ootp movie
---
Just a few hours ago we posted some new images from the Harry Potter and the Order of the Phoenix movie, which will appear in Entertainment Weekly

on Friday.
The issue

features three different covers with Harry, Hermione and Ron, all the information you need to know about the movie, quotes from Daniel Radcliffe and director David Yates and a quiz to test your Harry Potter knowledge.
One article mentions that Mr. Yates has been tapped to direct Half-Blood Prince, although nothing has been finalized yet and that the producers state that the movie will be two and a half hours, the shortest in the series to date.
Or you can start reading the articles here

and here

for the list of characters, all on the EW site.
Thanks to Tammara via DR.co.uk

for the scans.